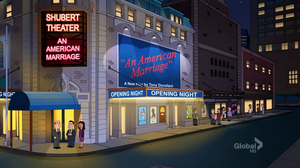 The Shubert Theatre is a Broadway theatre located at 225 West 44th Street in midtown-Manhattan, New York, United States. The theatre's longest tenant was A Chorus Line, which ran for 6,137 performances from 1975 to 1990 and set the record for longest running show in Broadway history. Later long runs have included Crazy for You (1992–1996), Chicago (1996–2003), Spamalot (2005–2009) and Memphis (2009–present). The theatre has also been a returning venue for the Tony Awards.
Stewie's play An American Marriage has its opening at the Shubert Theatre in "Brian's Play", although Brian is puzzled as to how it turned out so bad after being completely impressed by it when it was written. Stewie claims he gave a few tweaks after Brian read it and ruined it after Brian gets depressed when Stewie's play is about to take Broadway by storm and professional playwrights laugh at his own work.
Ad blocker interference detected!
Wikia is a free-to-use site that makes money from advertising. We have a modified experience for viewers using ad blockers

Wikia is not accessible if you've made further modifications. Remove the custom ad blocker rule(s) and the page will load as expected.