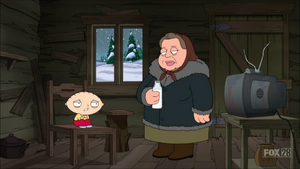 Siberia is an extensive region constituting almost all of Northern Asia. Comprising the central and eastern portion of the Russian Federation, it was part of the Soviet Union (USSR) from its beginning, as its predecessor states, the Tsardom of Russia and the Russian Empire, conquered it during the 16th to 19th centuries.
In the times of the Soviet Union, the earlier katorga system of penal labor camps was replaced by the new one, administered by the GULAG state agency. According to official Soviet estimates, more than 14 million people passed through the Gulag from 1929 to 1953, with a further 7 to 8 million being deported and exiled to remote areas of the Soviet Union. 516,841 prisoners died in camps from 1941 to 1943 due to food shortages caused by World War II. At other periods, mortality was comparatively lower.
in "Stewie Goes for a Drive", Stewie is afraid that when Peter and Lois find out that he wrecked Brian's car, he'll be Shipped off to Siberia.