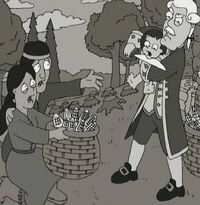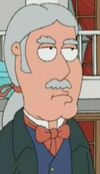 Silas Pewterschmidt is an ancestor of the Pewterschmidt family, appearing in "Peter Griffin: Husband, Father...Brother?". He is one of the first to colonize America. He bartered with Native Americans by holding a knife to a baby's throat in exchange for maize, as seen in a photo album. The descendant he bears most resemblance to Carter Pewterschmidt.
He also appeared in "Untitled Griffin Family History" as the father of Lois Laura Bush Lynne Cheney Pewterschmidt. He does not approve of her relationship with Nate Griffin, the former slave with whom Lois runs away with and has a family with by the time Silas catches them in hiding after running away.
Silas is voiced by Seth MacFarlane.
Ad blocker interference detected!
Wikia is a free-to-use site that makes money from advertising. We have a modified experience for viewers using ad blockers

Wikia is not accessible if you've made further modifications. Remove the custom ad blocker rule(s) and the page will load as expected.