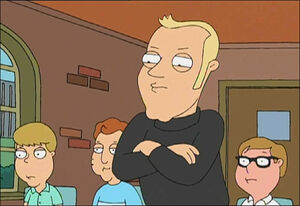 Simon was the Performing Arts teacher in "From Method to Madness". He nearly failed Stewie Griffin and Olivia because they were doing poorly. They made and performed "You Do" together and were a hit. He slapped his own face after underestimating them. Stewie slapped his face for wearing a purple pants with blue socks.
During an acting exercise with Stewie, he reveals that his father publicly humiliated him at his only sister's wedding, by introducing him as his "other daughter".
He is voiced by Seth MacFarlane.