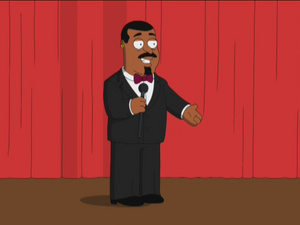 David Adkins, better known by the stage name Sinbad, is an American stand-up comedian and actor. He became well known in the late 1980s and 1990s, appearing on several television series and starring in the family-friendly films Houseguest, First Kid, and Jingle All the Way.
He appeared in "When You Wish Upon a Weinstein", defeating Stewie Griffin on the talent show Star Search.
Peter Griffin mentioned him in "A Very Special Family Guy Freakin' Christmas" in comparison to Sinbad the sailor.
He voiced himself in "Tales of a Third Grade Nothing", where he hosted a comedy show at the Apollo Theatre.
Ad blocker interference detected!
Wikia is a free-to-use site that makes money from advertising. We have a modified experience for viewers using ad blockers

Wikia is not accessible if you've made further modifications. Remove the custom ad blocker rule(s) and the page will load as expected.