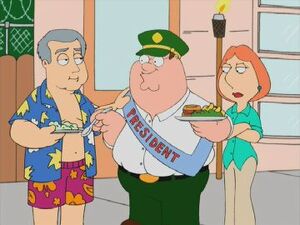 Slobodan Milošević (August 20, 1941 - March 11, 2006) was the former President of Serbia and of Yugoslavia. He served as the President of the Socialist Republic of Serbia and the Republic of Serbia from 1989 until 1997 in three terms and as President of the Federal Republic of Yugoslavia from 1997 to 2000. He also led the Socialist Party of Serbia from its foundation in 1990. In the midst of NATO bombings of Serbia, Milošević was charged with crimes against humanity by the International Criminal Tribunal for the former Yugoslavia (ICTY), but the trial ended after Milošević died in his cell.
He appears as one of the guests at Peter Griffin's Petorian pool party in "E. Peterbus Unum".
Ad blocker interference detected!
Wikia is a free-to-use site that makes money from advertising. We have a modified experience for viewers using ad blockers

Wikia is not accessible if you've made further modifications. Remove the custom ad blocker rule(s) and the page will load as expected.