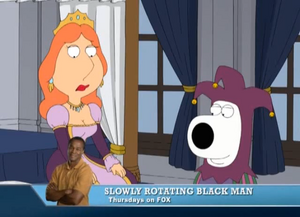 Slowly Rotating Black Man is a fictional television program whose promotional bumpers were shown during "Peter's Progress". It airs Thursday nights on FOX after Shovin' Buddies.
Derwin Jordan plays the Slowly Rotating Black Man.
Ad blocker interference detected!
Wikia is a free-to-use site that makes money from advertising. We have a modified experience for viewers using ad blockers

Wikia is not accessible if you've made further modifications. Remove the custom ad blocker rule(s) and the page will load as expected.