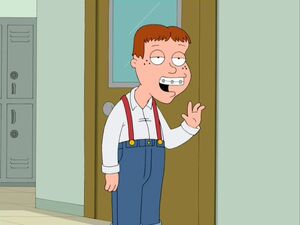 Smiley McGee is a boy at James Woods Regional High School who always smiles and says "Helloooo". In Stew-Roids, he is in a virtual dead heat with Chris Griffin for the most unpopular boy in school although Connie DiMico declines to go out with him because he wets the bed.
Ad blocker interference detected!
Wikia is a free-to-use site that makes money from advertising. We have a modified experience for viewers using ad blockers

Wikia is not accessible if you've made further modifications. Remove the custom ad blocker rule(s) and the page will load as expected.