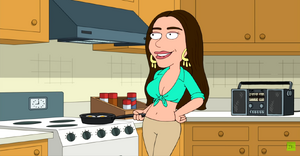 Sofía Margarita Vergara (born July 10, 1972) is a Colombian actress, comedian, television host, model, and entrepreneur, known for the film Chasing Papi, Meet the Browns, Madea Goes to Jail and Modern Family.
Vergara provides the voices of the flower saleswoman on Peter and Quagmire's date and "Hispanic Woman" in Peter's Spanish soap opera in "The Giggity Wife".
A caricature of Sofía's character Gloria Pritchett appears in "The Simpsons Guy" when the cast of Modern Family meets the cast of All in the Family.
Ad blocker interference detected!
Wikia is a free-to-use site that makes money from advertising. We have a modified experience for viewers using ad blockers

Wikia is not accessible if you've made further modifications. Remove the custom ad blocker rule(s) and the page will load as expected.