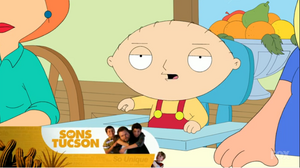 Sons of Tucson was a comedy television series starring Tyler Labine, Frank Dolce, Matthew Levy and Benjamin Stockham. Former Malcolm in the Middle star Justin Berfield produced the series. It premiered on FOX on March 14, 2010. The show was announced as a midseason show to air on Sunday nights at 8:30 pm ET/PT, which would replace The Cleveland Show, in between animated hits, The Simpsons and Family Guy, although it was changed to 9:30 ET/PT, replacing American Dad!.
On April 5, 2010, it was announced that Fox had canceled Sons of Tucson after only four episodes; the remaining nine episodes that were ordered were burned off beginning June 6, ending on August 1, 2010.
In "Excellence in Broadcasting", Stewie Griffin takes time to acknowledge a fake promotional bumper for the show, telling viewers to remember the show's existence.