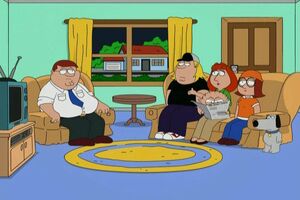 South Park is an animated feature on Comedy Central, created by Trey Parker and Matt Stone. The show follows the misadventures of Stan, Kyle, Cartman, and Kenny in the fictional town of South Park, Colorado.
Parker and Stone have considered Family Guy their rivals, which they demonstrated in "Cartoon Wars Pt. 1-2". According to the episode, whales and dolphins are the producers while manatees are the writers.
In the episode "Canada on Strike", while flicking through the TV channels out of lack of stuff to watch, Family Guy comes on for a few seconds, before Cartman yells "No! We are NOT resorting to that!".
Seth MacFarlane had considered a response to South Park for this, in addition to several other jibes that the show was created by a group of manatees, but decided against it since it he decided that Family Guy didn't have the time to waste on South Park after a joke was written but not used due to being considered in poor taste.[1]
When Seth gave a commencement speech at Harvard in 2006, he, in character as Stewie, made reference to the South Park parodies, confirming that the cutaway gags are not in the show to advance the plot, but just for the purpose of hilarity.[2]
Family Guy director Greg Colton got his start in animation as a lip sync artist for South Park.[3]
The Cartoon Wars episode was referenced by Mark Hentemann in the commentary for "Baby Not On Board" with the statement "And the manatees do the rest".
In "Bigfat", Peter says that he's always wanted to go to Canada, but since South Park already has, he couldn't go. 
Seth also mentioned South Park in a counter to a Twitter rant by Presidential candidate Donald Trump, following a parody skit on Saturday Night Live on October 15, 2016. Donald was infuriated by SNL and publicly announced that it should be canceled.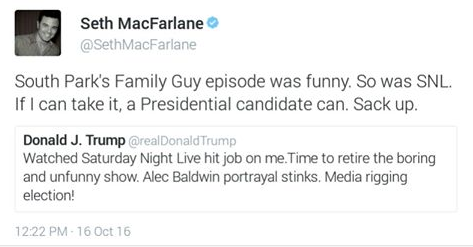 In "Oh, Jeez", Gerald Broflovski is tasked with posing as an ambassador and demonstrates his ability to vary his voice slightly while claiming to be three different characters from Family Guy in a shot at similar sounding voices by both Seth MacFarlane and Seth Green.
The show appears on the library computer in "Emmy-Winning Episode" as one that consistently wins Emmys.
South Park character Kenny McCormick's skeletal remains are seen in the title sequence of "V is for Mystery".
Peter acknowledges that Family Guy has taken some good ribbings by South Park in ""Family Guy" Through the Years".