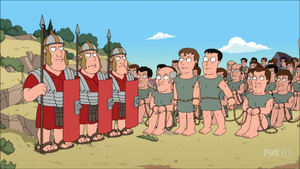 Spartacus (c. 109–71 BCE) was a famous leader of the slaves in the Third Servile War, a major slave uprising against the Roman Republic. Little is known about Spartacus beyond the events of the war, and surviving historical accounts are sometimes contradictory and may not always be reliable. Nevertheless, all sources agree that he was a former gladiator and an accomplished military leader. A 1960 American epic historical drama film directed by Stanley Kubrick and based on the novel of the same name by Howard Fast features the phrase "I am Spartacus!" which has been referenced in a number of other films, television programs, and commercials.
In "Quagmire and Meg", Quagmire fails to believe that Peter would stand up to his friend when Quagmire tries to get into Meg's pants. Peter tells him he stood up to Spartacus and would stand up to Quagmire as well. A cutaway shows a couple of Greek slaves standing up and announcing that they are Spartacus and Peter points out the real Spartacus.
Ad blocker interference detected!
Wikia is a free-to-use site that makes money from advertising. We have a modified experience for viewers using ad blockers

Wikia is not accessible if you've made further modifications. Remove the custom ad blocker rule(s) and the page will load as expected.