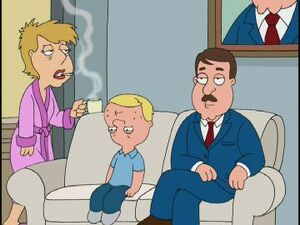 Stacy Tucker is the wife of TV news reporter Tom Tucker and mother to Jake Tucker, a boy with an upside-down face. Little is known about Stacy other than her relationship between her and her husband seems to be a rough one. In "Ready, Willing, and Disabled", while talking to Tom over the phone Tom tells her that he won't be home until late and suggests she invite the poolboy over. In "Mother Tucker", it is implied by Tom to Thelma Griffin that the two have divorced. In "Brian in Love", it is suggested that Stacy is not Jake's biological mother.
Stacy is voiced by Nicole Sullivan.
Filmography
Ad blocker interference detected!
Wikia is a free-to-use site that makes money from advertising. We have a modified experience for viewers using ad blockers

Wikia is not accessible if you've made further modifications. Remove the custom ad blocker rule(s) and the page will load as expected.