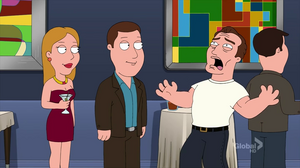 Stanley Kowalski is a fictional character in Tennessee Williams' play A Streetcar Named Desire. He was most famously portrayed by Marlon Brando in the play's initial Broadway performance as well as the 1951 film adaptation, with Brando's screaming of "STELLA!" becoming a cliché.
In "Brian's Play", Stewie asks Brian to drive him to New York so he can attend a party with other playwrights, noting that all of the big names would be there including Stanley Kowalski. A cutaway gag shows Stanley yelling out the names of the people he is introduced to except for Bokyavroychesku whom he simply greets.
Peter and Lois catch an early draft of A Streetcar Named Desire on television in "Grimm Job" in which Stanley yells for "Debbie" instead of Stella.
Stanley is voiced by Jackson Rathbone.