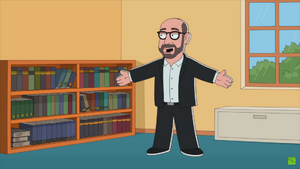 Stanley Tucci (born November 11, 1960) is an American actor, writer, producer and film director, nominated for an Academy Award for Best Supporting Actor for The Lovely Bones, and won an Emmy Award for Winchell.
On Stewie's first day at the exclusive preschool Corridors in "Take a Letter", he notes that his class' version of "Flat Stanley" is really Stanley Tucci, who notes that sometimes he wears glasses and other times he doesn't.
Ad blocker interference detected!
Wikia is a free-to-use site that makes money from advertising. We have a modified experience for viewers using ad blockers

Wikia is not accessible if you've made further modifications. Remove the custom ad blocker rule(s) and the page will load as expected.