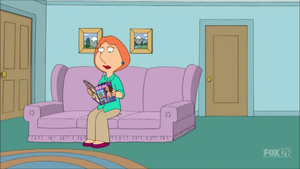 Star is an American celebrity tabloid magazine founded by Rupert Murdoch in 1974 as competition to the tabloid National Enquirer with its headquarters in New York City. In the late 1980s it moved its offices to Tarrytown, NY and in 1990 Murdoch sold the magazine to The Enquirer's parent company American Media Inc.
Lois reads about Snooki dying in Star magazine in "Stewie Goes for a Drive".
Ad blocker interference detected!
Wikia is a free-to-use site that makes money from advertising. We have a modified experience for viewers using ad blockers

Wikia is not accessible if you've made further modifications. Remove the custom ad blocker rule(s) and the page will load as expected.