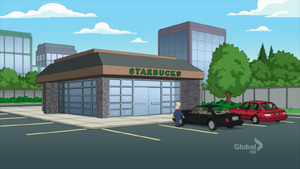 Starbucks Corporation is an American global coffee company and Italian-style coffeehouse chain based in Seattle, Washington. Starbucks is the largest coffeehouse company in the world, with 19,972 stores in 60 countries.
In "Bill and Peter's Bogus Journey", Chris tells Meg she's full of crap like the writers who sit in Starbucks.
Cleveland Brown met Carolyn in a Starbucks in "Love, Blactually".
Peter tells Lois that his bowl movement looks like the Starbucks mermaid in "Seahorse Seashell Party".
Carter Pewterschmidt goes to a Starbucks in "The Old Man and the Big 'C'" and gives the clerk fake names for his coffee order, then he proceeds to take all of the sugar and creamer packets.
Ad blocker interference detected!
Wikia is a free-to-use site that makes money from advertising. We have a modified experience for viewers using ad blockers

Wikia is not accessible if you've made further modifications. Remove the custom ad blocker rule(s) and the page will load as expected.