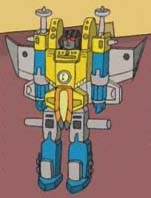 Starscream is a toy owned by Stewie Griffin who was a major villain in the Transformers animated series. He was used in protection against the tooth fairy in "Prick Up Your Ears" along with Man-E-Faces and SpongeBob SquarePants.
Brian tries to join Stewie playing with his toys of the Transformers and He-Man with Scotty Jennings in "Livin' on a Prayer", unaware of who the characters are. Stewie becomes upset when he wants to involve the two groups of toys together.
Ad blocker interference detected!
Wikia is a free-to-use site that makes money from advertising. We have a modified experience for viewers using ad blockers

Wikia is not accessible if you've made further modifications. Remove the custom ad blocker rule(s) and the page will load as expected.