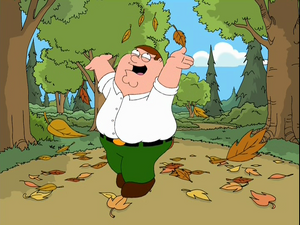 Steel Vaginas is a 2006 American "chick flick" written, produced, and directed by Peter Griffin and starring Peter Griffin, Lois Griffin, Bonnie Swanson, Joe Swanson, and Cleveland Brown. The film was inspired by Autumn's Piano, a film considered to be of the same genre that the director saw with his wife, who would later be cast as the female lead. The film's title comes from Steel Magnolias, a 1989 film of the same genre.
Plot
Mr. Hertz (portrayed by Peter Griffin) never believed in woman and unicorns until he met Vageena Hertz (portrayed by Lois Griffin). He flashes back to when his wife (portrayed by Bonnie Swanson) is giving birth to Vageena. Peter, thinking it to be a boy, is happy until he finds out that the girl. Sometime later, Vageena went swimming before waiting a half hour after eating, and begins cramping. She is taken to a hospital by a doctor (portrayed by Joe Swanson), but it turns out to be too late as Mr. Hertz states she died from a rotten vagina.
Cast
Reception
The movie was screened at the Griffin Home and was poorly received by the audience consisting of many of the director's friends.