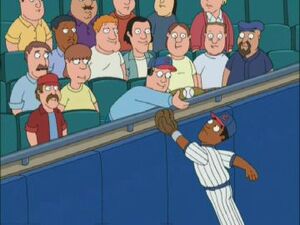 Steve Bartman is a baseball fan who became notorious following an incident when he reached for a fly ball, deflecting it and disrupting a potential catch by Cubs outfielder Moisés Alou. If Alou had caught the ball it would have been the second out in the inning, and the Cubs would have been just four outs away from winning their first National League pennant since 1945 and a trip to the World Series.
In "Stewie B. Goode", Stewie Griffin recalls it as the worst thing he's ever done, because he urged Steve to go for the ball, thinking it would cause no harm, which was answered moments later.
Ad blocker interference detected!
Wikia is a free-to-use site that makes money from advertising. We have a modified experience for viewers using ad blockers

Wikia is not accessible if you've made further modifications. Remove the custom ad blocker rule(s) and the page will load as expected.