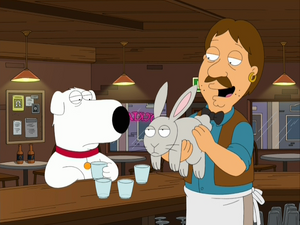 Steven is Bruce's pet rabbit.
It is revealed in the DVD version of "We Love You, Conrad" that he keeps Steve at his bar. Bruce likes rabbits because someone can pull the ears back and make them look like Asians. When he demonstrates for Brian Griffin, Steven demands carrots and lettuce from Brian in an Asian accent.
Ad blocker interference detected!
Wikia is a free-to-use site that makes money from advertising. We have a modified experience for viewers using ad blockers

Wikia is not accessible if you've made further modifications. Remove the custom ad blocker rule(s) and the page will load as expected.