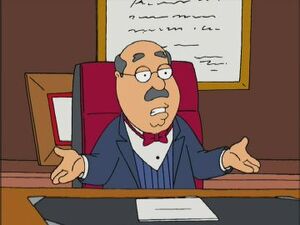 Steven C. Callaghan is the head of NBC who refuses to put Gumbel 2 Gumbel Beach Justice back on the air in "If I'm Dyin', I'm Lyin'". Peter Griffin threatens to go on a hunger strike and then asks if Mr. Callaghan is going to eat his stapler.
Steven C. Callaghan is voiced by Peter Roth.
Ad blocker interference detected!
Wikia is a free-to-use site that makes money from advertising. We have a modified experience for viewers using ad blockers

Wikia is not accessible if you've made further modifications. Remove the custom ad blocker rule(s) and the page will load as expected.