Bill and Ted's Bogus Journey, the sequel to Bill and Ted's Excellent Adventure, was previously spoofed in the title of "Bill and Peter's Bogus Journey". Director Joe Vaux noted in the DVD commentary that the film heavily influenced the episode in addition to the title.
Meg only passes through a single scene without saying a word.
It was reported by Seth Green that Napoleon Bonaparte would appear in the episode; however, despite those reports, Napoleon did not appear in the episode, or even the animatic version found on the Family Guy Season 13 DVD set.[1]
Chris confuses reaching his peak, or "zenith", with Zenith brand televisions and appliances.[2]
Tony Sirico, who plays as himself in the two live-action cutaways, previously played Vinny, Brian's temporary replacement in "Life of Brian", "In Harmony's Way" and "Christmas Guy".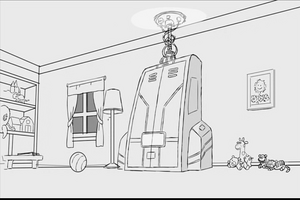 Although he protests to the other toys that he is straight, in the anamatic, Rupert is seen being humped by a toy giraffe when the time machine returns. In the finished video, none of the toys are present.
During "Double D-Day", "Cherry Pie" by Warrant plays.
In the 1990s, "King of Wishful Thinking" by Go West plays.
The "Titanic Casualties" web address that Stewie is viewing on his laptop near the end of the episode is "www.titanic_history_page.comp/casualtieslist/s12_ep04", a nod to the production number of the episode.
After they return from the past, Chris mixes up the name Titanic with Gigantic. One of Titanic's sister ships was originally called the Gigantic before it was changed to Britannic.[3]
The gang stops in 1920 Paris where Ernest Hemingway shoots himself due to Brian's prattle. In reality, Hemingway committed suicide with a shotgun blast to the head in Sun Valley, ID in 1961.
The Titanic did not set off from London. She actually departed from Southampton, England.
As the Titanic sails and later sinks, smoke rises from all four funnels. In reality, the fourth funnel was not connected to the boilers for venting exhaust, but was used for aesthetic design and for ventilation.[4]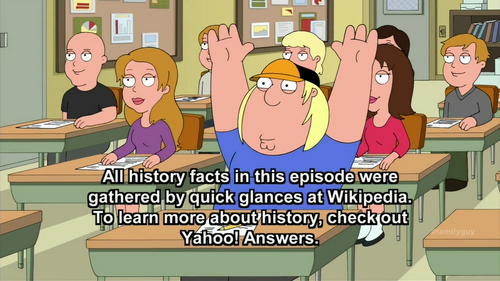 The DVD commentary explains that the final act originally did not involve the Titanic. In an attempt to help Chris after all other methods have failed, he is taken to see Socrates in ancient Greece, only to be taken to an island and molested.