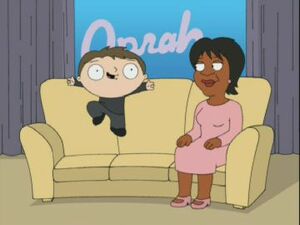 Stewie Cruise is a parody of actor Tom Cruise, but stated to be a cousin of Stewie Griffin.
In the episode "Deep Throats", he is shown to have been a guest on The Oprah Winfrey Show. There, he professed his love to Katie Holmes with an exaggerated tantrum by jumping on the couch.
He was voiced by Seth MacFarlane.
Ad blocker interference detected!
Wikia is a free-to-use site that makes money from advertising. We have a modified experience for viewers using ad blockers

Wikia is not accessible if you've made further modifications. Remove the custom ad blocker rule(s) and the page will load as expected.