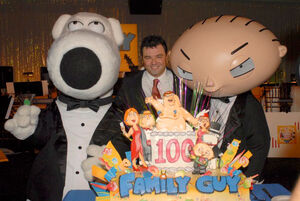 This was celebrated as the 100th episode of Family Guy.
A half-hour retrospective on the first 100 episodes of Family Guy, titled "The Family Guy 100th Episode Special", preceded the original airing of the episode.
Stewie unknowingly arouses Brian while describing bondage to him.
Stewie's disappointment regarding his parents' departure is compared to his disappointment from seeing The Lake House.
Peter gets in trouble for defecating on the poop deck.
Lois mentions Kate Winslet's character Rose DeWitt Bukater, calling her "that fatass British girl from Titanic." Peter thinks she's mistaken and tells her that the character was not played by Winslet, but by Philip Seymour Hoffman.
The Kool-Aid Man makes yet another appearance, in a direct homage to his courtroom intrusion in "Death Has a Shadow".
In this episode it is revealed that Meg was going to be aborted.
Ringo Starr did write or help write a few songs for the Beatles, including "Octopus Garden", co-written with Harrison.
It is revealed that Quagmire used to be a stand-up comedian and had longer hair. Quagmire calls Peter a killer, like Bernie Goetz, which he did a bit of stand-up comedy on.
Peter listens to "Hello" by Lionel Richie.
During one of his dates, Peter says that his astrological sign is Leo. However, in the "The Fat Guy Strangler", Dr. Hartman said that Peter's astrological sign was a Cancer. This anomaly can be dismissed as part of the simulation.
Peter warns Brian to stay out of the cat box, despite no known family cat.
In the censored versions, Meg is standing in the hallway outside her bedroom in her normal clothes with the hot dogs when she says "I'm gonna pretend you're the New York Knicks." In the uncensored versions, she is in her bedroom in a nightgown.
According to the DVD commentary, this episode was intended to be the season five finale, but due to extended contract negotiations, production was halted and the episode was not completed in time.