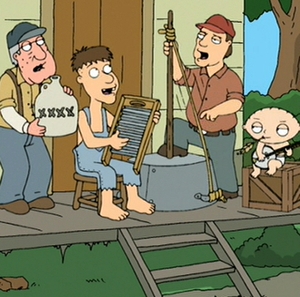 Stewie and the Cowtones were a jug band based in Bumblescum, Alabama. They appeared only in the episode "To Love and Die in Dixie".
The band includes Stewie Griffin on vocals and banjo, along with members who play the jug, the washboard, and the washtub bass.They sung two songs on the episode : "My Fat Baby", and an unknown song, which they performed as the band for a local hootenanny, or hoedown, where Chris goes on a date with Sam, a girl who Chris at first mistakes for a boy.
The band presumably was left with a vacancy at lead vocalist and banjo when Griffin returned home to Quahog, Rhode Island.
Ad blocker interference detected!
Wikia is a free-to-use site that makes money from advertising. We have a modified experience for viewers using ad blockers

Wikia is not accessible if you've made further modifications. Remove the custom ad blocker rule(s) and the page will load as expected.