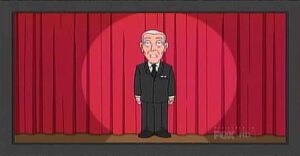 Still Awake with Otto Von Shtad is Germany's most popular late night talk show. Carol Pewterschmidt watches the show in "Brothers & Sisters" after her break up with Mayor Adam West. Host Otto Von Shtad proclaims the buildings in Munich are very well maintained and closes after announcing that he has no guests.
Ad blocker interference detected!
Wikia is a free-to-use site that makes money from advertising. We have a modified experience for viewers using ad blockers

Wikia is not accessible if you've made further modifications. Remove the custom ad blocker rule(s) and the page will load as expected.