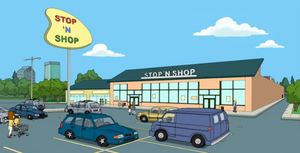 Stop 'N Shop is a grocery store frequented by the Griffin Family. Although they go to the grocery in many episodes, it is unclear if they always shop at the Stop 'N Shop.
In "Breaking Out is Hard to Do", Chris becomes trapped in a music video by the group "A-ha" while reaching for some milk and Lois develops a habit of petty theft when she finds she is short of cash.
In "And I'm Joyce Kinney", Lois meets news anchor Joyce Kinney while picking up items for a church bake sale and takes up her offer to see a live taping of the news.
In "Back to the Pilot", Brian and Stewie buy some D batteries for the return pad from the 1999 Stop 'N Shop in order to return to 2011.
Lois becomes an assistant manager in "Peter Problems".
Peter and Brian try to buy a turkey on Thanksgiving Day at the grocery store, but find that Mayor Adam West had just purchased the last one to give it an official pardon in "Turkey Guys".
Lois and Quagmire bump into each other at the Stop 'N Shop in "Hot Pocket-Dial" after Quagmire embarrassingly confesses his love over Lois to Peter. Despite her attempts to get him to patch things up with Peter, he decides instead to move from the neighborhood.
A woman mistakes Stewie for a girl at the store in "Cop and a Half-Wit", prompting him to go out for football despite being much smaller than the other players.
After Brian makes a racially insensitive tweet in "The D in Apartment 23", Lois finds herself treated like a pariah at the store, despite attempting to appeal to multiple employees by name.
Peter meets Boo Berry while grocery shopping in "Dog Bites Bear".