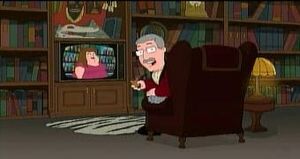 The Storyteller is a random character that often appears from a huge chair and tells the ending of origin stories.
He appears in "The Man with Two Brians" and "Welcome Back, Carter". In the former, he watches a Family Guy cutaway, explaining the origins of the phrase "What a croc!". In the latter, he watches Paula and her friends press their faces up together so intensely they merge into one fat girl, and explains that that is how fat girls are made.
Ad blocker interference detected!
Wikia is a free-to-use site that makes money from advertising. We have a modified experience for viewers using ad blockers

Wikia is not accessible if you've made further modifications. Remove the custom ad blocker rule(s) and the page will load as expected.