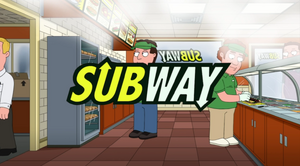 Subway is an American fast food restaurant franchise that primarily sells submarine sandwiches (subs) and salads. It is the largest single-brand restaurant chain and the largest restaurant operator globally.
Peter Griffin starred in an ad for Subway in 2005 entitled Ode to a Subway Feat, where he recites a poem about the sandwich being made behind him, and takes a swipe at the spokesman, Jared Fogle.
When Stewie travels into the past to stop his own conception in "Chap Stewie", he takes along his teddy bear Rupert who brings along Subway, as Stewie sarcastically thanks him for asking him if he wanted some as well.
Subway hires Mike as a replacement for Jared, their spokesperson convicted of child pornography in "Peter's Lost Youth".
Ad blocker interference detected!
Wikia is a free-to-use site that makes money from advertising. We have a modified experience for viewers using ad blockers

Wikia is not accessible if you've made further modifications. Remove the custom ad blocker rule(s) and the page will load as expected.