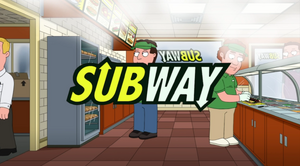 Subway is an American fast food restaurant franchise that primarily sells submarine sandwiches (subs) and salads. It is the largest single-brand restaurant chain and the largest restaurant operator globally.
Peter Griffin starred in an ad for Subway in 2005 entitled Ode to a Subway Feat, where he recites a poem about the sandwich being made behind him, and takes a swipe at the spokesman, Jared Fogle, who was arrested and given prison time for child pornography.
When Stewie travels into the past to stop his own conception in "Chap Stewie", he takes along his teddy bear Rupert who brings along Subway, as Stewie sarcastically thanks him for asking him if he wanted some as well.
Subway hires Mike as a replacement for Jared in "Peter's Lost Youth".
Stewie mentions that Jared is part of his photography club in "Foxx in the Men House".