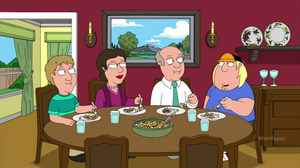 The Sullivans are a family with which Chris has lunch with in "Brian the Closer".
When lunch with Brian seems strange after Peter knocks all of his teeth out, Chris remarks about it being the craziest meal since sitting down with Tommy Sullivan at his house. A cutaway shows a normal meal where Chris compliments Mrs. Sullivan on the macaroni and cheese. The cutaway is so mundane that Peter and Lois criticize it.
Ad blocker interference detected!
Wikia is a free-to-use site that makes money from advertising. We have a modified experience for viewers using ad blockers

Wikia is not accessible if you've made further modifications. Remove the custom ad blocker rule(s) and the page will load as expected.