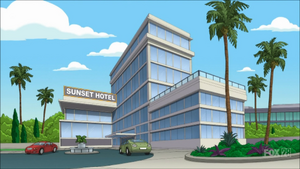 The Sunset Hotel is where James Woods meets with Peter Griffin after he hired him as an agent in "Tom Tucker: The Man and His Dream". Peter and James receive a proposal for a script that Craig T. Nelson, Jeff Goldblum and Jeremy Irons had already rejected but they accept after negotiating with studio executives. James would later fire Peter at the hotel when he dices that Peter is too small of an agent to handle his needs.
Ad blocker interference detected!
Wikia is a free-to-use site that makes money from advertising. We have a modified experience for viewers using ad blockers

Wikia is not accessible if you've made further modifications. Remove the custom ad blocker rule(s) and the page will load as expected.