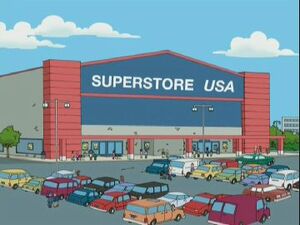 Superstore USA is a superstore which is similar to Wal-Mart. It appears in "Hell Comes to Quahog" when it forces all of the local bushiness to close including Chris' paper route and Goldman's Pharmacy. After Meg lands a job, Peter arrives with much of Quahog to protest and both become employees. Taking their objections over blackouts caused by the store's energy consumption into their own hands, the store is destroyed by Stewie and Brian who acquire a tank confiscated by Joe after Peter caused havoc.
Ad blocker interference detected!
Wikia is a free-to-use site that makes money from advertising. We have a modified experience for viewers using ad blockers

Wikia is not accessible if you've made further modifications. Remove the custom ad blocker rule(s) and the page will load as expected.