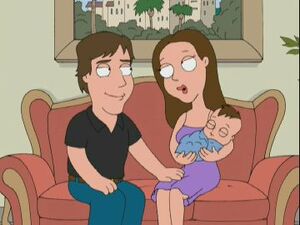 Suri Cruise is the daughter of Tom Cruise and Katie Holmes.
She is seen in "Lois Kills Stewie" as an infant. When mom Holmes escapes, she uses Suri to knock Tom out and abandons her, leaving Suri with Tom.
She is on the list of celebrities Peter Griffin doesn't like in "420"
Ad blocker interference detected!
Wikia is a free-to-use site that makes money from advertising. We have a modified experience for viewers using ad blockers

Wikia is not accessible if you've made further modifications. Remove the custom ad blocker rule(s) and the page will load as expected.