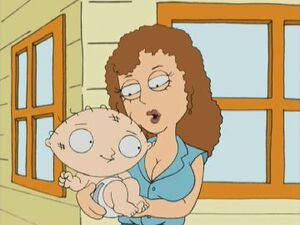 Susan Sarandon (born October 4, 1946) is an American actress. She has worked in films and television since 1970, and won an Oscar for her performance in the 1995 film, Dead Man Walking. She is also noted for her social and political activism for a variety of liberal causes.
She travels to the struggling small nation of Petoria in "E. Peterbus Unum" in a parody of her world hunger awareness campaigns. She holds a filthy Stewie Griffin as part of the ad.
She stars with Vince Vaughn in People Who Look Like They Never Sleep.... The film's trailer preceded the showing of Stewie Griffin: The Untold Story.