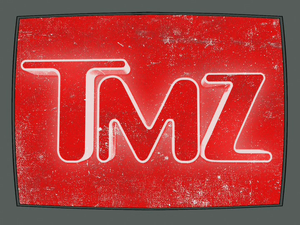 TMZ.com is a celebrity news website which debuted on November 8, 2005. It was a collaboration between America Online (AOL) and Telepictures Productions, a division of Warner Bros., until Time Warner divested AOL in 2009. The site is now under the sole control of Warner Bros. A companion TV series, TMZ on TV, debuted on September 10, 2007.
In "We Love You, Conrad", the site was the first to break the news about Lauren Conrad's relationship with Brian, as they were tipped by what was supposed to be an anonymous source.
Peter Griffin sends his footage of Richard Dreyfuss atTerri Schiavo: The Musical to TMZ to air on the show in "Peter-assment". Founder and host Harvey Levin and correspondent Max Hodges, the long haired blonde male, are seen. Also included in the episode is footage of Rene Russo confusing TMZ paparazzi with the Tennessee Valley Authority.