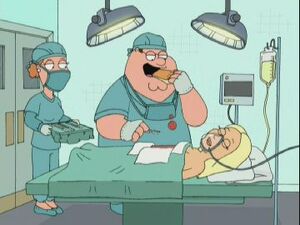 Tara Donna Reid (born November 8, 1975) is an American actress. She began her television career with several guest appearances on television shows such as Saved By The Bell: The New Class, Days of our Lives, and California Dreams. She is known for her recurring role as Danni Sullivan on NBC comedy drama series Scrubs.
In "The Fat Guy Strangler", it was revealed that one of her breast implant surgeries were performed by Peter Griffin. When a slice of pepperoni from his pizza falls in, Griffin decides to use it as her implant.
When explaining to Jerome why he should "Thank the Whites" in "Baby Got Black", Peter uses Tara as an example.
Ad blocker interference detected!
Wikia is a free-to-use site that makes money from advertising. We have a modified experience for viewers using ad blockers

Wikia is not accessible if you've made further modifications. Remove the custom ad blocker rule(s) and the page will load as expected.