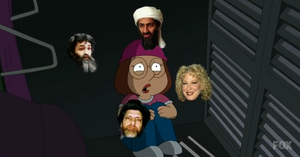 Dr. Theodore John "Ted" Kaczynski (born May 22, 1942), also known as the Unabomber (University and Airline Bomber), is an American mathematician, social critic, anarchist, and Luddite who engaged in a mail bombing spree that spanned nearly 20 years, killing three people and injuring 23 others.
A photograph of Kaczynski's head appears in "Road to the North Pole" as one of the voices in Meg Griffin's head during the musical number "All I Really Want For Christmas".
Penelope has a pop-up book copy of the "Unibomber's Manifesto" in "Mr. and Mrs. Stewie". As Stewie look through it, she notes that his brother David Kaczynski turns him in at the end.
Peter mentions Ted was a Harvard graduate in "The Giggity Wife".
Joe mentions the unibomber in "Turban Cowboy".
Ad blocker interference detected!
Wikia is a free-to-use site that makes money from advertising. We have a modified experience for viewers using ad blockers

Wikia is not accessible if you've made further modifications. Remove the custom ad blocker rule(s) and the page will load as expected.