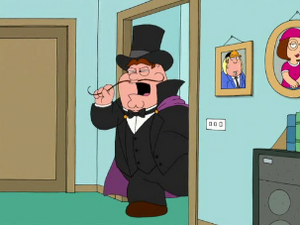 Thaddeus Griffin is Peter Griffin's evil twin brother. He shows up in "Mother Tucker" when Peter's mother announced she has left her husband Francis Griffin. He declares this new event will surely affect his inheritance. He has a habit of rubbing his mustache between his fingers and saying "Nyah!".
Thaddeus is voiced by Seth MacFarlane.
In "Brothers & Sisters", Peter states that he doesn't have a brother or a sister, but instead a broster, half-brother, half-sister.
Ad blocker interference detected!
Wikia is a free-to-use site that makes money from advertising. We have a modified experience for viewers using ad blockers

Wikia is not accessible if you've made further modifications. Remove the custom ad blocker rule(s) and the page will load as expected.