It's revealed that Jesus did not actually leave Earth, like he said he was doing at the end of "I Dream of Jesus".
The prostitute friend Jesus alludes to is Mary Magdalene.
This is the second time Peter is alluded to be a pedophile, after "He's Bla-ack!" when Cleveland notes the pictures of baby penises.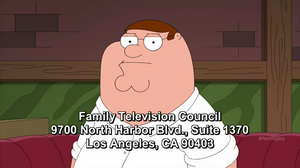 The song played during Lois' staircase entrance is Sixpence None the Richer's cover of "There She Goes" originally by the La's.
Stewie listens to "Both Sides Now" by Joni Mitchell at the end.
Jesus and Carrie Underwood were revealed to be an item in "3 Acts of God".
The North Harbor Boulevard address in Los Angeles given for mailing complaints to the "Family Television Council" is fictional. The DVD commentary elaborates that the production staff took extra care to ensure that the address would never lead to an actual location, but would end far into the Pacific ocean.