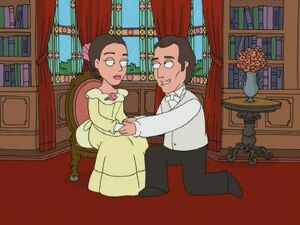 The Age of Innocence is a 1993 American drama film adaption of Edith Wharton's 1920 novel of the same name. The film was directed by Martin Scorsese and stars Daniel Day-Lewis, Michelle Pfeiffer and Winona Ryder. The film was nominated for five Academy Awards, winning one for Costume Design.
In "Breaking Out is Hard to Do", Brian mentions that Lois stealing mufflers at the auto store is worse than "the Winona Ryder thing". Day-Lewis and Ryder are then seen on the set of the film, in costume. Day-Lewis says that Ryder is terrible, and asks for a nude scene in the movie which Martin Scorsese agrees to.
Ad blocker interference detected!
Wikia is a free-to-use site that makes money from advertising. We have a modified experience for viewers using ad blockers

Wikia is not accessible if you've made further modifications. Remove the custom ad blocker rule(s) and the page will load as expected.