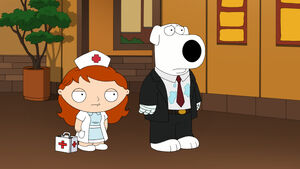 In the promo pic for the scene when Kate leaves Brian, Stewie has no eyebrows. This was corrected in the aired episode.
This is the first episode to show Peter back at work at the brewery since he had previously quit in "Lottery Fever".
Peter is a fan of True Blood.
This is the second time Brian's tail got cut off. The first time was in "The Hand That Rocks the Wheelchair" when Evil Stewie cut it off.
The scene of Peter falling down the stairs is shown in reverse in "Yug Ylimaf".
Stewie does the choreography for the film Showgirls.
A cutaway shows that Japanese people accept crazy or hilarious fetishes and sexual behavior in Japanese culture, particularly anime and manga.