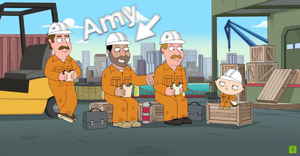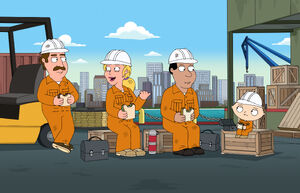 This episode is dedicated to the memory of Doug Lackey, one of the show's music editors.
Guest star Amy Schumer is the first person to guest star on three FOX animated shows on the same night.

Credited as providing the voice of the "crew leader," a preview video for the episode had the character depicted as a male, complete with an arrow noting that Amy was providing the voice. A last minute addition to the episode promos, as well as the episode itself, shows the character redrawn as female. The character to her left was also redesigned.

Several long-disused locations and characters are brought back for this episode, including Cheesie Charlie's, Bob's Funland Amusement Park, Olivia Fuller and more recently, Vinny.
"Tubthumping" by Chumbawumba plays during Chris' rush to the airport.
The separation between Vinny's light and dark sections has a more distinctively drawn line in this appearance.
Although Chris generally has a job at the Quahog Mini-Mart, he is jobless in this episode.
Seth MacFarlane won an Emmy for "Outstanding Character Voice-Over Performance" for this episode.[1]