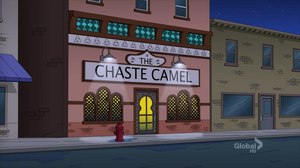 The Chaste Camel is where Mahmoud takes Peter out to give him a taste of Islamic culture in "Turban Cowboy". After dining and trying a hookah, Peter becomes sold on the idea of becoming a Muslim himself when Mahmoud has his wife go after Peter's dry cleaning noting the obedience of Islamic wives.
Peter is later introduced to a group of terrorists in the back room and unwittingly becomes part of their plot to blow up the Quahog Bridge.
Ad blocker interference detected!
Wikia is a free-to-use site that makes money from advertising. We have a modified experience for viewers using ad blockers

Wikia is not accessible if you've made further modifications. Remove the custom ad blocker rule(s) and the page will load as expected.