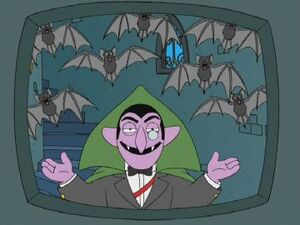 Count von Count, often known simply as The Count, is one of the Muppet characters on Sesame Street, performed by Jerry Nelson. The Count is a vampire modeled after Béla Lugosi's interpretation of Count Dracula.
The buttons on Stewie's phone in "Model Misbehavior" are Big Bird, Grover, Ernie, and The Count.
In the "Family Guy Viewer Mail No. 1" segment entitled "Supergriffins", Peter and Brian Griffin are watching Sesame Street when Peter asks whether The Count has ever killed someone for their blood, as vampires stereotypically do. Brian accurately points out that no such episode has aired.
In "Partial Terms of Endearment", Meg mentions she almost had sex with The Count. A cutaway shows a topless Meg from behind with The Count counting her three nipples, horrified when he reaches the end of his tally, so he quickly escapes.
He is voiced by Seth MacFarlane.
External Links