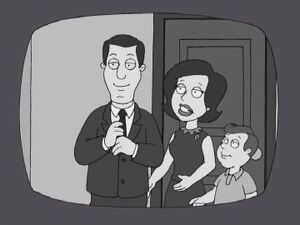 The Dick Van Dyke Show is an American television situation comedy which initially aired on CBS from October 3, 1961 and ran until June 1, 1966. The show was created by Carl Reiner and starred Dick Van Dyke and Mary Tyler Moore.
In "Holy Crap", the Griffins watch an episode where Dick suffers from a number of mishaps and rather violent injuries parodying his antics on the show.
In "PTV", The FCC censors out the words Dick and Dyke from the show's title, making the show the first victim of the David Hyde Pierce trouser malfunction incident.
In "And Then There Were Fewer", the show's theme song is used in a game of "Name That Tune" between Stewie and Brian Griffin.
Ad blocker interference detected!
Wikia is a free-to-use site that makes money from advertising. We have a modified experience for viewers using ad blockers

Wikia is not accessible if you've made further modifications. Remove the custom ad blocker rule(s) and the page will load as expected.