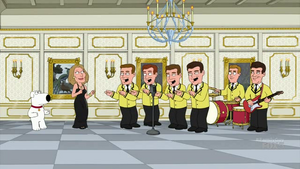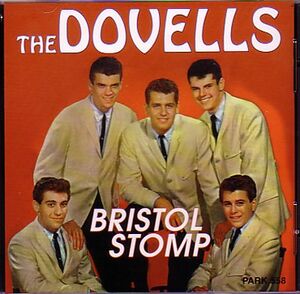 The Dovells were an American music group known for their songs "No, No, No" under their original name The Brooktones, "Bristol Stomp", "Do the New Continental" and "You Can't Sit Down".
The appear in Stewie's dream singing "Bristol Stomp" at a dinner party hosted by Glenn Close in "A Lot Going On Upstairs". When Brian, who has been brought into Stewie's dreams to help him with a monster, wonders where he could have heard it, Close tells him that it was on the car radio once.
Although pictured as a six man group in Stewie's dream, in reality, The Dovells membership was 4-5 members at various times of their career.
Ad blocker interference detected!
Wikia is a free-to-use site that makes money from advertising. We have a modified experience for viewers using ad blockers

Wikia is not accessible if you've made further modifications. Remove the custom ad blocker rule(s) and the page will load as expected.