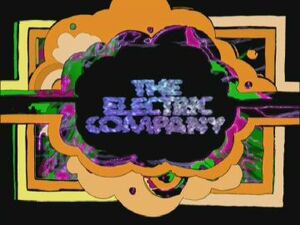 The Electric Company is an Emmy-winning children's television series that originally aired on PBS from 1971-1977. Then the show got a R&B style remake beginning in 2009. The show's aim was to teach young school-aged children reading skills through a series of skits and blackout gags. The show's cast in its early years included Morgan Freeman, Rita Moreno, Bill Cosby, Judy Graubart, Lee Chamberlin and Skip Hinnant.
In "Mr. Saturday Knight", Peter Griffin loses his job in the aftermath of the Happy-Go-Lucky Toy Factory's closing, he attempts to get a series of jobs, including a job as a cast member on The Electric Company. There, he and another cast member tape a "soft-shoe silhouette" segment, where one person gives a suffix, the other a prefix and together sound out the word. Peter fails to keep up with the other actor and in his frustration, assaults the other actor.
In "Hell Comes to Quahog", Quahog 5 News reports of a planned rolling blackout. Diane Simmons refers to an electric cooperative as The Electric Company and yells, "Hey you guys!". The line was Moreno's signature, and so the season one opening plays and shows the primary cast members.