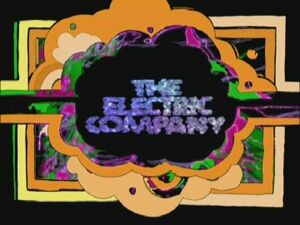 The Electric Company is an Emmy-winning children's television series that originally aired on PBS from 1971-1977. Then the show got a R&B style remake beginning in 2009. The show's aim was to teach young school-aged children reading skills through a series of skits and blackout gags. The show's cast included several well-known actors and actresses, including Bill Cosby and multi-award winner Rita Moreno; the cast also featured a then-unknown actor named Morgan Freeman.
In "Mr. Saturday Knight", Peter Griffin loses his job in the aftermath of the Happy-Go-Lucky Toy Factory's closing, he attempts to get a series of jobs, including a job as a cast member on The Electric Company. There, he and another cast member tape a "soft-shoe silhouette" segment, where one person gives a suffix, the other a prefix and together sound out the word. Peter fails to keep up with the other actor and in his frustration, assaults the other actor.
In "Hell Comes to Quahog", Quahog 5 News reports of a planned rolling blackout, Diane Simmons refers to an electric cooperative as The Electric Company and yells, "Hey you guys!". The line was Moreno's signature, and so the season one opening plays
Ad blocker interference detected!
Wikia is a free-to-use site that makes money from advertising. We have a modified experience for viewers using ad blockers

Wikia is not accessible if you've made further modifications. Remove the custom ad blocker rule(s) and the page will load as expected.