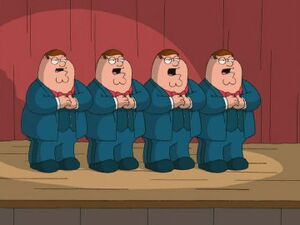 The Four Peters are an a cappella singing group comprised of four clones of Peter Griffin. In "Model Misbehavior", they sing "Eine Kleine Nachtmusik", or translated as "A little Night Music" or "A Little Serenade".
In the performance they were humming a strange sounding tune and ending it with a crescendo.
Ad blocker interference detected!
Wikia is a free-to-use site that makes money from advertising. We have a modified experience for viewers using ad blockers

Wikia is not accessible if you've made further modifications. Remove the custom ad blocker rule(s) and the page will load as expected.