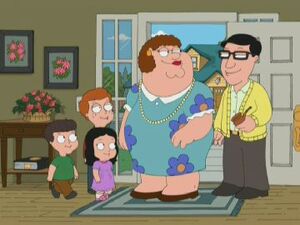 The Handlemans is the other family Peter Griffin lives with in "Back to the Woods". Lois and the other Griffins believe he goes away on business trips when he instead goes to Chicago to be with his husband, Adam Kenneth, and their kids.
Ad blocker interference detected!
Wikia is a free-to-use site that makes money from advertising. We have a modified experience for viewers using ad blockers

Wikia is not accessible if you've made further modifications. Remove the custom ad blocker rule(s) and the page will load as expected.